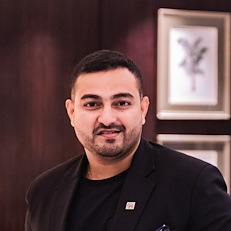 Lejlal Muralidharan
Assistant Manager
Lejlal Muralidharan
Assistant Manager
A huge cricket fan, Lejlal moved to Dubai in 2013 and started his bartending journey at the Intercontinental hotel.
His love and passion for mixology has led him to become the head bartender at Toro Toro in 2018.
Lejlal participated in several cocktails competitions including the World Class competition in 2017 and the Remy Martin competition in 2021.
He was appointed as Assistant Manager at Bar 44 in November 2022.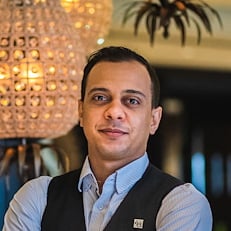 Karim Mohamed
Head Bartender
Karim Mohamed
Head Bartender
Kareem started his bartending journey in Egypt, his home country in an international luxury hotel. He moved to Dubai as a Bartender at the Underground Pub in the Habtoor Grand Resort, Autograph Collection. He joined the Bar 44 team in 2018.
Kareem is a big Liverpool F.C fan and like most Egyptians, adores Mo Salah.
On your next visit, ask Kareem for a Mangetsu - his favourite cocktail.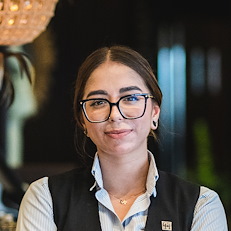 Katherine Suarez
Bartender
Katherine Suarez
Bartender
Hailing from Venezuela, Katherine was previously a bartender in Ecuador at a local independent hotel for 3 years before joining the Bar 44 team in 2021.
Outside of work, Katherine loves spending time by the beach. Her favourite cocktail is Mai Tai.